With just under a month and a half until the home opener, progress has been made on the home foundation for the region's first summer college baseball season.
The Sandhills Bogeys were announced in October as a new team in the Old North State League, and construction of the stadium at the southeast end of the Sandhills Community College campus began last week when the fence was delivered to the site. Concrete foundations were poured over the weekend for the backstop and dugouts, with the stadium expected to host 21 games this summer and provide a much-needed baseball experience for the region.
Bogeys managing director Casey Harrell brings with him a diverse background, including a 13-year stint serving in the Air Force and working in England before moving to Moore County. As the leader of the franchise, he is ready for baseball's membership in the community.
"I've really gotten back into youth sports here and I can go to baseball games," Harrell said. "I fell in love with the game again. I had the ability to teach my kids, and as that happened, (league president) Alec (Allred) and I met and we started talking about where this league is going and how it's evolving.
Harrell has already noticed the level of attention the Bogeys have garnered in the six months since their announcement.
"I just think this community here loves it too," he said. "Since this started and since I've met the people that I've met as general manager here, baseball people have been coming out of the woodwork."
Now comes the work of providing a field for the team to play on and fans to gather for summer afternoons, starting with the home opener on June 11 against the Fayetteville Falls.
"It's grueling," Harrell said of the process of building a stadium from scratch. "From the rendering, and seeing how far we've come to finally innovate, we've come leap years from where we started. But we really want to go much further.
Part of the laborious aspects of construction include supply chain impacts, from fences to lampposts.
"It's going to be okay. We're going to play ball this year," Harrell said. "Even though we have to bring this thing in phases, the pitch will be what the college wants it to be and the pitch will be what the fans want it to be, and it will be a great place to hang outside."
Julie Borshak, a fifth-generation Moore County native, was hired by the Old North State League as director of community relations. Using her vast knowledge acquired during summers spent with minor league franchises Myrtle Beach Pelicans and Pensacola Blue Wahoos, she realized that a ballpark is more than just a diamond on which two teams can play. .
"My favorite part of working in baseball isn't even the baseball itself. It's what the stadium means to the community and what the organization means to the community, with the partnerships we form," Borshak said, "Through the employees we have, through the interns we have, and through all the nonprofits.
"We're trying to make it feel as much like a minor league (feel) with this wooden bat league."
After returning to a changed Moore County from where she left several years ago, Borshak said she was looking for the right place for her experience to fit in without a baseball team in the area. The Bogeys' announcement was exactly what she wanted to hear.
After meeting the Allred family, who formed the league, she learned that this league is a far cry from the farm system teams she has worked with in the past.
"What makes it really special for me is knowing that I'm part of this family that loves and is so dedicated to youth sports," Borshak said. "It's not a big company, it's a grassroots family that fully believes in youth sports and promoting community and family in our area. It means everything to me.
Reggie Allred, co-founder of the college baseball players' league to continue building their game in the summer, spent time the first week of construction helping contracting teams take the first steps of building the stadium.
The league's website states, "The Old North State League is truly a league for players." A big part of the plan for Harrell and Borshak is to make sure it also involves the local community, especially younger players.
Pre-game infield catches and post-game on-base runs will be available at every home game for young baseball players, and Harrell can already imagine the crowds of young players heading to games for participate by wearing their jersey after leaving one of their matches or practices. going out to the ballpark.
"We need to bring in young players from all of our communities, no matter what organization you're from," Harrell said. "We want you to be part of it and experience it. We usually have to drive an hour to go somewhere and see a baseball game, then mom and dad want to get home before we have a chance to meet the players or stand in the aisle to shake hands. It goes back to when I remember being a little kid. I always wanted that foul ball, no matter what. We're going to see swarms of kids running around trying to catch that foul ball, and that's what I'm looking forward to.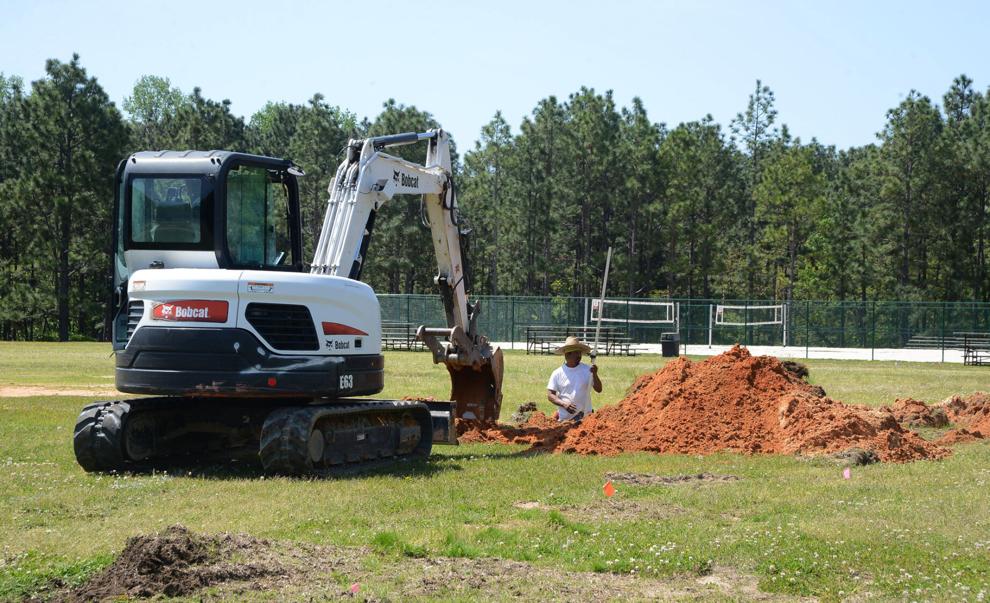 Part of creating a minor league feel at the college wooden bat will involve games and other activities between innings, as well as themed game nights with invited nonprofits as well. games.
"We make people feel part of it. We want to make sure we are part of their family memories," Borshak said. "If a family goes out, their kids are running the bases after the game, or they're helping out with the pre-game field catch or maybe their kid throwing out a first pitch for their birthday party. We just want to make sure we're as much part of the community as possible. »
And there's a summer baseball jumpsuit that fans can look forward to as well.
"There will be beer and there will be baseball. Those are two important things you can rely on," Borshak said.
With a roster of players who have local ties, the coaching staff will also have their connection to the region. Sandy McIver and Tom Schaffer, coaches who have mentored in high school and at other levels in the past, will be the coaches behind former big leaguer and Southern Pines resident Bernie Carbo.
"What's exciting is being around baseball guys like that and communicating," Harrell said. "You can learn a lot by doing this."
The local faces will go far beyond the Bogeys roster, but also with the workers of the team. Borshak is a proponent of providing learning opportunities for students who step out of the classroom to learn in a variety of fields, from sports management to sports medicine to groundskeeping.
"We work with local secondary schools and have had great enthusiasm and interest in sending students who may be interested in getting into sports management. We also welcome college-level kids because we believe our home stadium is going to be a living, breathing classroom for those students," Borshak said. "Working in minor league baseball is one of the most fun things I've ever done. It is a great place for women and girls. It's not just a career that is geared towards men. Great strides have been made in minor league baseball with female executives. I have never, ever been treated differently because I was a woman in baseball.
Upcoming events for the team include the search for national anthem and seventh inning performers at an event May 7 in downtown Southern Pines, and a naming contest for the Bogeys mascot. is to come.